Peters and Sterritt in the 49er, and Black and Tidey in the 49erFX take the lead of their events on Day 2 of the Lanzarote International Regatta.
Big wind and huge, steep swell set a massive physical challenge for the three Olympic fleets on day two of the Lanzarote International Regatta in the Canary Islands.
James Peters and Fynn Sterritt (2,3,23,3) take a 26 point lead in the men's 49er, ahead of Logan Dunnning and Oscar Gunn of New Zealand with Lukasz Przybytek and Jacek Piasecki of Poland in third place.
In the women's 49erFX, Britain's Freya Black and Saskia Tidey posted a consistant 2, 4, 1, to take the lead on 8pts,.
Holding onto second are Jana Germani and Giorgia Bertuzzi of Italy, who booked two race wins and a sixth.
Tidey was still buzzing from a big day out . . . "To be honest, I think I saw two of the biggest waves in my career today. Bigger than in Tokyo, but we survived them and that's all that matters."

Stephanie Roble and Maggie Shea (3,8,4) of the USA were able to drop an 18th from day 1 and jump into third place.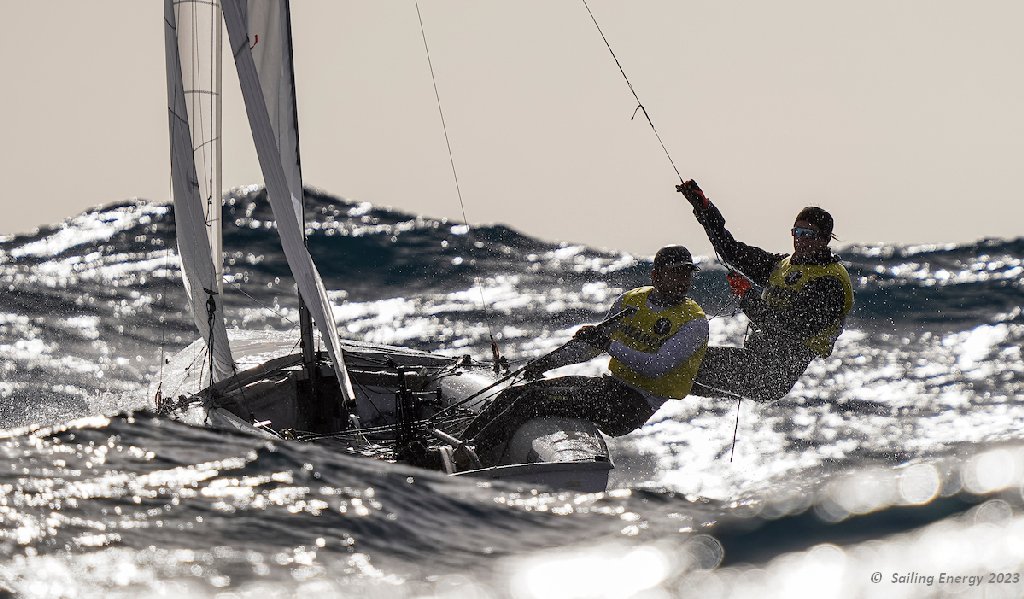 The mixed 470 completed three races and breaking yesterday's four-way tie are new leaders Jordi Xammer and Nora Brugnman (1,2,2) of Spain
They have a 5pt lead over Anton Dahlberg and Lovisa Karlsson (2,1,9) of Sweden, with In third place Mermod Yves and Siegentahler Maja of Switzerland.
Best of the British were Vita Heathcote and Ryan Orr (BFD,5,15) holding onto 13th place, with Martin Wrigley and Eilidh McIntyre (28,9,9) dropping to 16th.
Racing for the 49er, FX and 470 finishes on Monday 13 Febuary.
49er Men – Leaders after 7 races (29 entries)
1st GBR 30 James PETERS and Fynn STERRITT – – 4 3 2 2 3 -23 3 – – 17 pts
2nd NZL 7 Logan DUNNING BECK and Oscar GUNN – – -15 7 8 8 7 2 1 – – 33 pts
3rd POL 5 Lukasz PRZYBYTEK and Jacek PIASECKI – – -12 5 9 9 2 9 7 – – 41 pts
4th AUT 28 Keanu PRETTNER and Jakob FLACHBERGER – – 9 1 1 -26 6 17 10 – – 44 pts
5th USA 43 Andrew MOLLERUS and TBA – – 14 -18 12 4 4 4 8 – – 46 pts
6th ESP 74 Diego BOTIN and Florian TRITTEL – – 5 2 5 18 1 18 DNC – – 49 pts
7th AUT 8 Benjamin BILDSTEIN and David HUSSL – – 10 -14 14 10 9 3 6 – – 52 pts
8th IRL 9 Robert DICKSON and Sean WADDILOVE – – 1 6 6 -24 17 21 2 – – 53 pts
9th FRA 31 Lucas RUAL and Emile AMOROS – – 2 -28 20 11 15 1 9 – – 58 pts
10th CRO 83 Sime FANTELA and Mihovil FANTELA – – -21 9 17 7 5 16 4 – – 58 pts
49erFX Women – Leaders after 5 races (30 entries)
1st GBR 9 Freya BLACK and Saskia TIDEY – – 1 -12 2 4 1 – – 8 pts
2nd ITA 20 Jana GERMANI and Giorgia BERTUZZI – – 5 -6 1 1 6 – – 13 pts
3rd USA 8 Stephanie ROBLE and Maggie SHEA – – 4 -18 3 8 4 – – 19 pts
4th BRA 12 Martine GRAEL and Kahena KUNZE – – 8 1 -13 5 8 – – 22 pts
5th GER 505 Bergmann MARLA and Hanna WILLE – – 2 14 10 7 DNC – – 33 pts
6th ITA 46 Carlotta OMARI and Sveva CARRARO – – 3 16 11 DNC 3 – – 33 pts
7th GBR 230 Megan BRICKWOOD and Steph ORTON – – 25 UFD 5 2 2 – – 34 pts
8th FRA 22 Mathilde LOVADINA and Aude COMPAN – – 12 2 9 12 DNC – – 35 pts
9th USA 92 Paris HENKEN and Anna TOBIAS – – -20 7 6 13 10 – – 36 pts
10th GER 369 Inga-Marie HOFMANN and Catherine BARTELHEIMER – – 6 15 -17 11 5 – – 37 pts
470 Mixed – Leaders after 6 races (32 entries)
1st ESP 44 Jordi XAMMAR and Nora BRUGMAN – – 3 3 -12 1 2 2 – – 11 pts
2nd SWE 349 Anton DAHLBERG and Lovisa KARLSSON – – 7 5 1 2 1 -9 – – 16 pts
3rd SUI 3 Mermod YVES and Siegentahler MAJA – – -19 1 5 4 7 11 – – 28 pts
4th ESP 18 Silvia MAS DEPARES and Nicolás RODRÍGUEZ – – 1 7 7 -8 8 6 – – 29 pts
5th FRA 72 Matisse PACAUD and Lucie DE GENNES – – 12 -17 3 5 4 8 – – 32 pts
6th ISR 15 Nitai HASSON and Noa LASRY – – 22 UFD 6 3 3 1 – – 35 pts
7th GER 13 Malte WINKEL and Anastasiya WINKEL – – 6 -18 2 13 16 4 – – 41 pts
8th ITA 5 Marco GRADONI and Alessandra DUBBINI – – 13 2 10 DNC 6 10 – – 41 pts
9th ITA 6 Elena BERTA and Bruno FESTO – – 5 11 BFD 6 15 13 – – 50 pts
10th POR 25 Beatriz GAGO and Rodolfo PIRES – – -18 6 8 12 14 12 – – 52 pts
Best GBR:
13th GBR 11 Vita HEATHCOTE Ryan ORR – – 9 25 11 BFD 5 15 – – 65 pts
16th GBR 1 Martin WRIGLEY Eilidh MCINTYRE – – 28 9 9 16 11 RET – – 73 pts