The first split RS Aero UK 6 & 9 Nationals took place over the Bank Holiday weekend with the two Classes competing at a sun drenched Weymouth and Portland NSA, 27-29 May 2023
In the RS Aero 9 Ben Flower of Paignton SC was the winner, dominating with a string of 1sts. While in the RS Aero 6 Ben Whaley of Swanage SC took control on the final day to be a clear winner.
In the 9's Peter Barton and Magne Klann (NOR) went into the last day near equal with Barton going on to take 2nd with Magne 3rd.
And in the 6's there was a real tussle with Whaley taking control on the final day with Jon Emmett taking second and Noah Rees in third.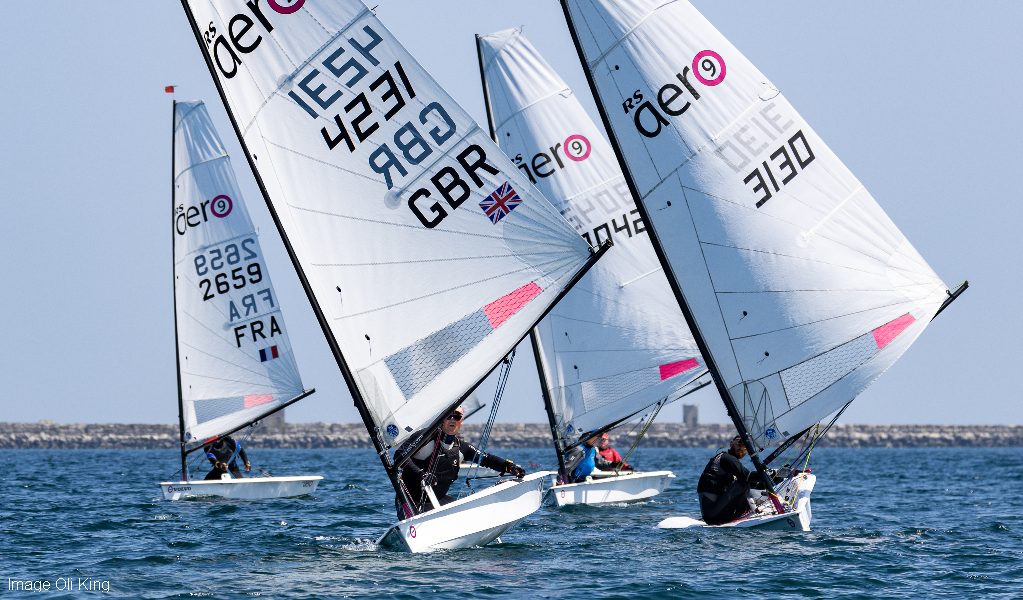 For the category prizes the first International Visitor in the RS Aero 9s was Magne Klann (Norway) and in the RS Aero 6s it was Roy Van Maanen (Ireland).
Chloe George (Lymington Town) was first Female in 5th. Ian Escritt (Yorkshire Dales) was first Master and Grand Master in 10th.
First Youth (U22) was Sam Blaker (Thorpe Bay) and first Youth Female was Abigail Larr (Draycote).
Focus now turns to the upcoming RS Aero World Championship in Sardinia 26-30 July, and a month after that is the RS Aero 5 & 7 UK Championship in Tenby, Wales from 20-25 August.
2023 RS Aero 6 UK National Championship – Final Leaders (43 entries)
1st 4272 Ben Whaley Swanage SC – – 11 pts
2nd 4434 Jon Emmett Weir Wood SC – – 19 pts
3rd 4295 Noah Rees Lymington Town SC – – 22 pts
4th 3875 Andrew Frost Sutton Bingham SC – – 25 pts
5th 3870 Chloe George Lymington Town SC – – 29 pts
6th 4397 Jack Miller Felpham/Paignton SC – – 38 pts
7th 4321 Chris Hatton Lymington Town SC – – 39 pts
8th 67 Craig Williamson Staunton Harold SC – – 51 pts
9th 3046 Steve Jackson Hardway SC – – 57 pts
10th 4374 Ian Escritt Yorkshire Dales SC – – 58 pts
2023 RS Aero 9 UK National Championship – Final Leaders (22 entries)
1st 2550 Ben Flower Paignton SC, CAN – – 6 pts
2nd 4396 Peter Barton Lymington Town SC – – 12 pts
3rd 3746 Magne Klann Soon Seilforening, NOR – – 20 pts
4th 4231 Chris Larr Draycote Water SC – – 25 pts
5th 3023 Richard Watsham Starcross YC / RNSA – – 25 pts
6th 4027 Robbie Lawson East Lothian YC – – 37 pts
7th 3130 Rory Cohen South Cerney SC – – 39 pts
8th 1457 Chris Jenkins Bowmoor SC – – 40 pts
9th 3438 Paul Bartlett Starcross YC – – 45 pts
10th 2384 Simon Geyman Lymington Town SC – – 53 pts