The future of the two remaining SailGP season 3 events is in doubt following significant damage to the wing sails and at least one boat at SailGP's tech site on Saturday.
Thankfully no-one was seriously injured during the incident, but there was significant damage to the wing sails across the fleet and at least one boat.
Six boats remained moored on the water and are relatively unscathed.

SailGP claimed that they received advice from local sources that there was a window to crane the boats and proceeded to do so.
The storm also wreaked havoc in parts of the city and left 60,000 people without power.
The strong wind struck the site while the Team Canada wing was being removed by crane which was unable prevent the wing breaking free, damaging several storage buildings, before crashing to the ground.
Phil Robertson, Driver of the Canada SailGP Team commented . . . "I was impressed by the amount of people who came to help, including members from other teams and of course, the SailGP Tech Team. The situation escalated quickly. It was some of the most wind I have ever seen in my life."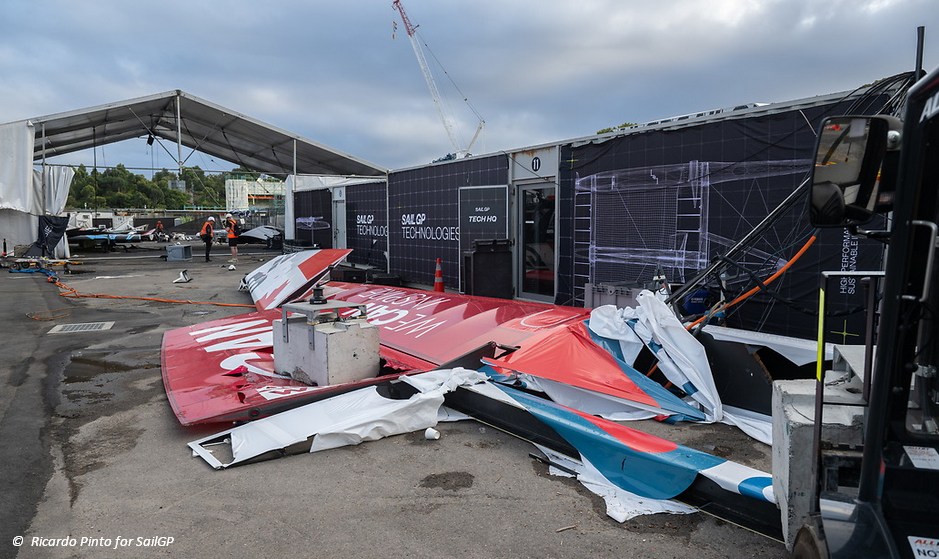 A full assessment is being carried out to determine the full extent of the damage and what this means for future events . . . the ITM New Zealand Sail Grand Prix and the Season 3 Grand Final in San Francisco.
One scenario could see the New Zealand event delayed or even cancelled and the teams moving straight to the Season 3 $1,000,000 winner-takes-all Grand Final in San Francisco on 6 and 7 May 2023.
However, all efforts will be made to continue the season 3 as scheduled.
SailGP CEO Russell Coutts has said that every effort would be made to run the New Zealand event, and some repairs would carried out in Christchurch with extra people being appointed to assist at the venue.
After the now shortened Sydney event Tom Slingsby and the Aussie team look safe for the $1,000,000 Final event, holding a 12 point lead.
France are one point behind second placed Pete Burling and the New Zealand team (9, 3, 4).
While Ben Ainslie and the British Team (6, 6, 2) slip to fourth overall, after their MOB incident in the first race saw them go from a certain win to an eventual finish in sixth . . . a considerable set-back to Ainslie's hopes in the overall ranking.
Ainslie is now just two points behind the French team, but will be under pressure from Denmark and the USA who still with a chance to make the $1,000,000 Final in San Francisco.