After a crazy hail storm the night before to further cool down the water and with many nursing sore heads from the crew vs helm dinner, there was only time for one race on the 3rd day of the RS800 Europeans.
And that race . . . race 6, went to Tom Morris and Guy Fillmore whose relentless pace earned them a well-deserved win, with John Mather and Phil Walker in second, and Luke and Emma McEwen third.
This broke the tie at the top of the leaderboard, with Morris and Fillmore now on 8 pts and 2 pts clear of the McEwens and 4 pts clear of Mather and Walker.
Tom Darling and Maria Stanley maintain their consistant progress with another  fourth place and remain in . . . Fourth.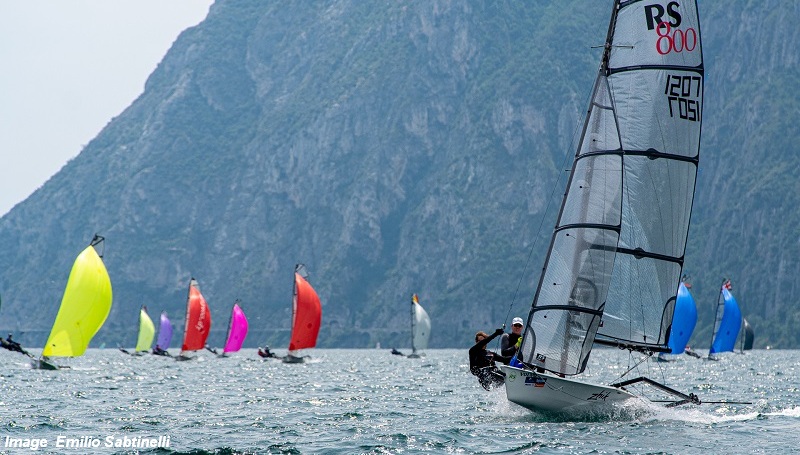 In race 6 in typical Garda fashion, about 30 seconds after the start, 95% of the fleet were on port heading towards the cliffs on the right.
Geoff Carveth led the charge with Walker and Mather, Morris and Fillmore, and the McEwens in hot pursuit.
Darling and Stanley rolled the dice on the left but with some blistering speed somehow managed to not get buried as pretty sure the right hand side was working.
Over the course of two laps Morris and Fillmore's relentless pace earned them their third race win.
The fleet is now looking forward to a big dinner a the club and an early alarm Thursday to race in the morning breeze.
Ciao!
By Phil Walker
2023 RS800 European Championship –  Day 3 after 6 races (30 entries)