Day four of the Yanmar Dragon Gold Cup 2023 in Torquay brought frustration for the sailors and race committee alike, as race four of the six race series had to be abandoned on the second beat when the wind died off completely.
As a result there are no changes in the overall standings . . . Lawrie Smith of Glandore YC continues to lead the fleet with a 15 pt advantage from Switzerlands Wolf Waschkuhn on 20 pts with Belgium's Xavier Vanneste third on 21 pts.
Andy Beadsworth sailing for Turkey is fourth with 23 pts and Denmark's Bo Johansen fifth with 27 pts..
Having announced that there would be no further racing Wedneday, the Royal Torbay's support boats swung into action to tow the entire fleet home.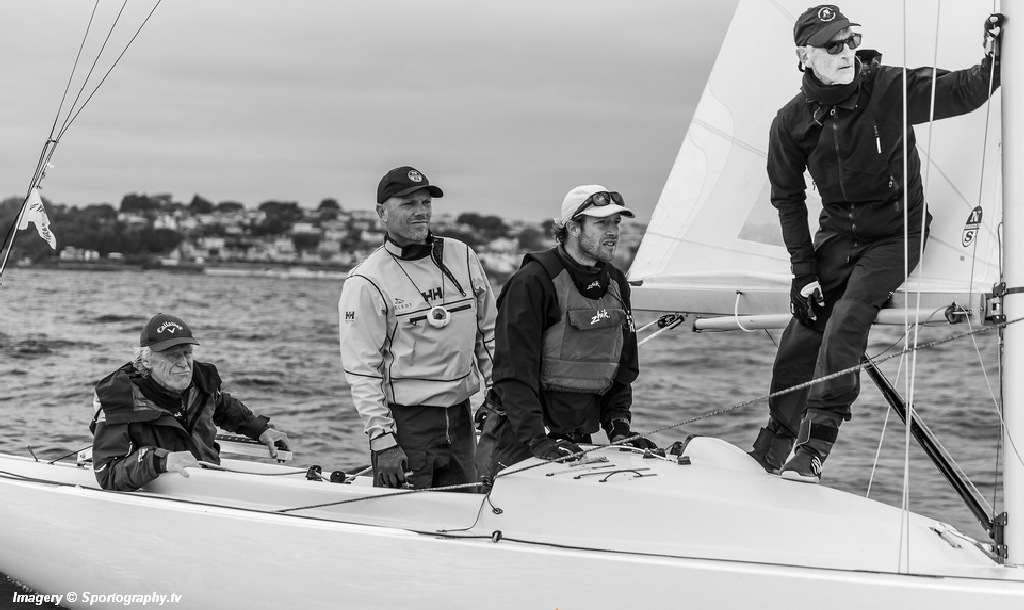 The forecast for Thursday looks more promising and the Race Committee has announced that it intends to run two races if possible.
Three races remain to be sailed between now and the conclusion of the regatta on Friday 15 September with all races to count.
Christoph Skolaut now leads the Corinthian Division, in 12th place overall.
Dragon Gold Cup 2023 – Leaders after day 4, 3 races (49 entries)
1st GBR815 ALFIE – Lawrie Smith – – 1 1.0 RDG 3 – – 5 pts
2nd SUI318 1quick1 – Wolf Waschkuhn – – 4 4 12 – – 20 pts
3rd BEL82 Herbie – Vanneste Xavier – – 5 8 8 – – 21 pts
4th TUR12 Provezza Dragon – Andy Beadsworth – – 16 5 2 – – 23 pts
5th DEN423 Deja vu ver, 2.0 – Bo Johansen – – 2 24 1 – – 27 pts
6th JPN56 YRed – Peter Gilmour – – 3 12 13 – – 28 pts
7th SWE800 Miss Behaviour – Jan Secher – – 23 2 4 – – 29 pts
8th GER62 Desert Holly – Link Stephan – – 13 10 6 – – 29 pts
9th AUS551 YeahNah – Pete Cooke – – 6 14 10 – – 30 pts
10th GBR682 Ecstatic – Eric Williams – – 22 7 11 – – 40 pts