The RYA Dinghy & Watersports Show is not just about the British love of individualistic dinghy classes.
Which continues to manifest itself in the trend to restore early versions of one-design dinghies while the designers and builders produce evermore pop-up varients.
Wandering around the numerous dinghy builders and class associations, tucked between the booming number of food outlets were a number of specialist products.
Wetsuit boots and gloves have long been the norm and many younger sailors will not remember a time when it was not thought necessary to shoehorn yourself into multilayers of neoprene to go sailing or even to visit the beach.
An extreme development of this are Solite Innovations wetsuit boots and gloves, developed by life-long cold-water surfers Jamie Meiselman and Tyler Callaway.
Solite heat-moldable Thermofoam soles claim to provide a direct connection to your board and feel like a second skin for maximum warmth, barefoot response, and super-light simplicity.
They provide a range to cover a wide temperture range, from the 3mm Custom Watersport Boots (Recommended Water Temps: 10-16C) to the 8mm Custom (Recommended Water Temps: 0′ C +) with patented heat-moldable Thermofoam sole to eliminate the spongy/sloppy feel of the standard neoprene-sole boot.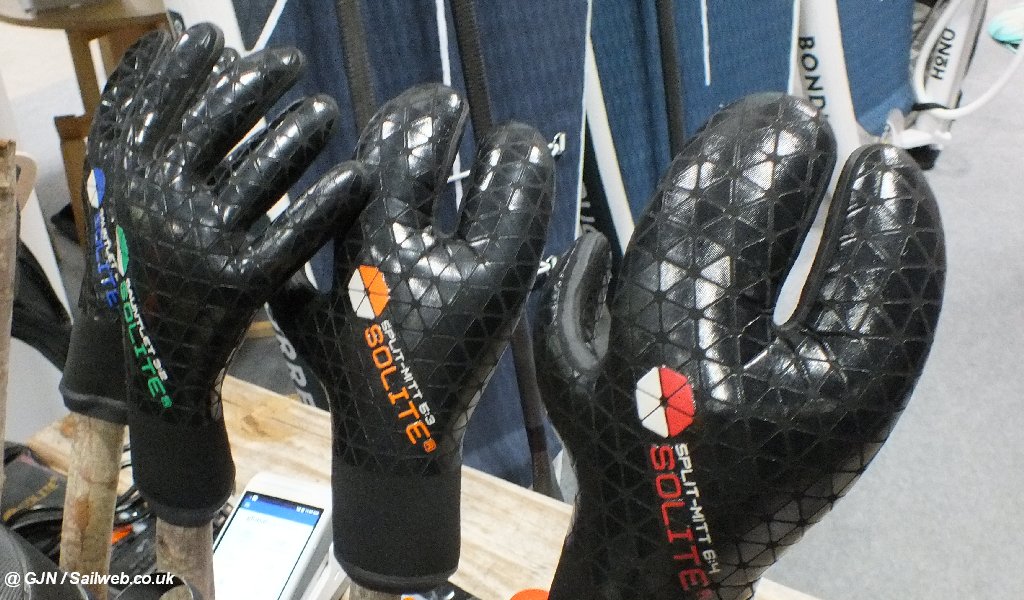 And likewise at the other extremity they have the 2:2 Gauntlet Glove designed for moderate air/water temps (Water Temp: 50F/10C+) to the 5:3 Split-Mitt.
All designed to keep your hands warm and functioning (Water Temp: 40F/4C+) in all but the most arctic conditions.
And for that they have the 6:4 Split-Mitt designed for the most frigid conditions with a recommended Water Temp: 32F/0C+.
See more here . . . soliteboots.uk
Another niche feature noticed were Beach-Perfects range of CGear sand free mats.
Aiming to deliver a truly sand free experience using patented sand free technology for the ultimate beach mat or picnic blanket.
CGear's patented sand free technology was originally developed for the military, to shield helicopters from the critical damage caused by sand and grit blown up during take of and landing, so of course there are CGear sand free drone landing mats too.
Beachgoers can finally enjoy day long freedom from the irritating downside of a sandy beach whether sunbathing, changing or simply wanting to enjoy sand free sandwiches.
See more here . . . beach-perfect.com
Another stand to catch the eye was the glamourous CLV – Cest La Vie Jewellery – display specialising in authentically detailed nautical themed gold and silver jewellery.
Providing that authenticity is an interesting back-story.
The designer behind CLV, Cathy Ash-Vie, together with husband Andy, had been the originaters of Harken UK in 1999, after convincing Peter and Olaf Harken to set up a dedicated UK Harken company.
Andy and Cathy stepped down from Harken in the Spring of 2020, but Cathy set up her jewellery design studio in Lymington and is in the unique position of being able to create authentic, accurate and detailed Harken miniatures. And having a yacht designer on hand ensures that each hand carved yacht is true to its lines.
See more here . . . cestlaviejewellery.com
Relevent Posts:
Yachting Journalists' Association – Top awards for young and exciting talent