Harm Müller Spreer's German flagged Platoon team clinched the 2023 Rolex TP52 World Championship title with a thrilling comeback in the final minutes of the final race off Barcelona.
From fourth at the last windward mark of the championship, they passed two boats in the closing moments of the downwind.
Outgoing 2022 champions Quantum Racing powered by American Magic (USA), finished second behind Provezza (TUR), the team which had led the regatta since the end of the first day of competition.

The last pair of races Saturday, contested for the first time in an Easterly breeze of 7 – 10 kts and nasty Barcelona choppy sea – proved to be a fitting, high octane climax.
Starting the day with a three points lead over their German rivals, Provezza handed the advantage back to Platoon when they opened their final charge with a sixth place – their worst race of the regatta.
At the same time, when they really needed it Platoon unfurled an impressive victory ahead of Gladiator which had ETNZ's Ray Davies guesting as tactician.
It is also Platoon's second regatta win of 2023, coming on the heels of lifting the Royal Cup in Mahon, Menorca last month.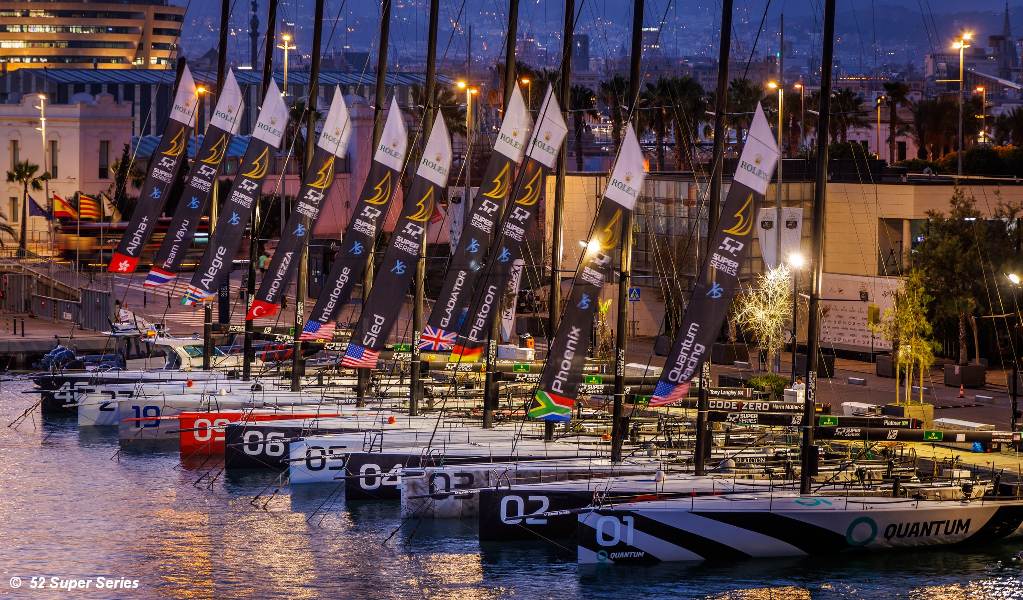 After getting two red flag penalties in Race 3, the last of a long, hot, sweaty three race day, Platoon delivered a 2,2,3,1,2 finish but still head to Puerto Portals (Sept 18) for the season finale still with the same 18 points deficit they have behind leaders Provezza.
Rolex TP52 World Championship Final Standings
1st GER PLATOON, Harm Müller-Spreer 25 pts
2nd TUR PROVEZZA, Ergin Imre, 26 pts
3rd GBR GLADIATOR, Tony Langley 34 pts
4th RSA PHOENIX Hasso Plattner 39 pts
5th USE QUANTUM RACING AMERICAN MAGIC, Doug DeVos, 43 pts
6th GBR ALEGRE, Andy Soriano 44 pts
7th USE SLED, Takashi Okura 51 pts
8th THA VAYU, Whitcraft Family 54 pts
9th USA INTERLODGE, Augustin – Gwen Fragomen 58 pts
10th HKG ALPHA+, Shawn and Tina Kang, 66 pts
52 SUPER SERIES 2023 – After 4 events
1st TUR Provezza 34 42 35 26 – – 137 pts
2ndGER  Platoon 45 51 34 25 – – 155 pts
3rd USA Quantum Racing American Magic 40 43 54 43 – – 180 pts
4th GBR Gladiator 40 66 41 34 – – 181 pts
5th USA Sled 45 52 46.5 51 – – 194.5 pts
6th GBR Alegre 43 64 46 44 – – 197 pts
7th THA VĀYU 58 48 65 54 – – 225 pts
8th USA Interlodge 45 54 100 58 – – 257 pts
9th RSA Phoenix 57 71 100 39 – – 267 pts
10th PAPREC 56 81 58 88 – – 283 pts
11th HKGALPHA+ 65 91 72 66 – – 294 pts