Latest Update Monday 21:00 hrs: Alex Thomson is pacing the boats around him, and indeed has been a little quicker at times, returning to 'race mode' The English skipper says he still has around one and half nights of work to 'finish the job'.
Working with his team, with VPLP the designers, structural engineers Gurit and ATR design manager Pete Hobson, Thomson has completed most of the repair.
"I've got a sail up again!" Thomson told his team "I'm sailing in the right direction and I'm back in the race. I'm super happy about that. It's been a tough couple of days, an awful lot of work – cutting, grinding, sanding, gluing and there's still a lot more to go."
"It's certainly not over yet but the structure in the bow is now stable, it's not moving any more and so I can sail in these moderate conditions, in the right direction. Happy days".
Join Alex Thomson as he shares an insight into the intricate repair work now underway onboard HUGO BOSS.
After gaining access through a small hatch during a routine inspection check, Alex found the central longitidunal frame cracked in several places and detached from the hull.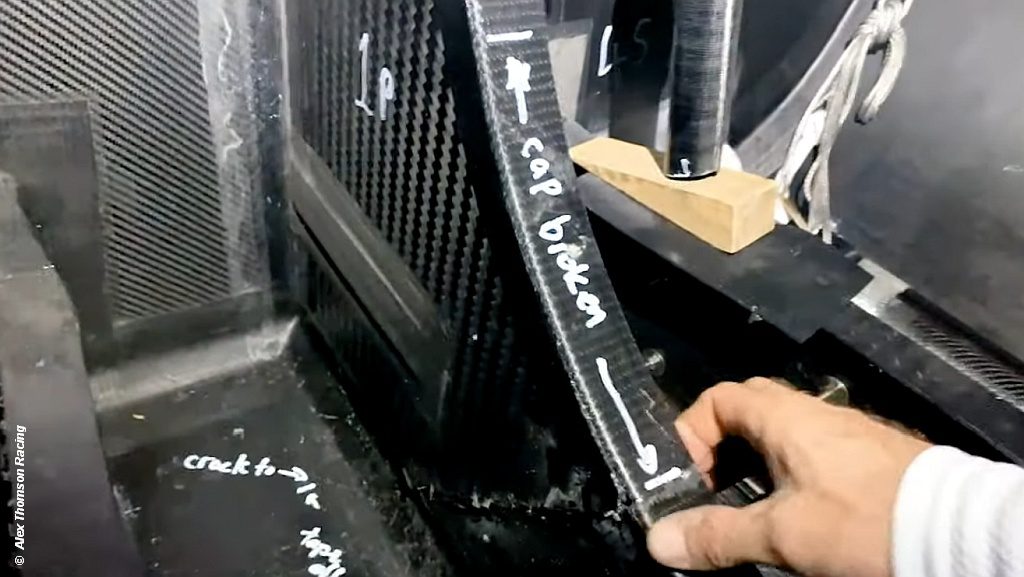 Alex has taken this video showing the extensive damage to the forward central longitidunal frame.

At the 17:00 hrs report on Monday 23 November, Alex and Hugo Boss were in fifth place 383 nm behind the Vendee Globe leader Charlie Dalin on APIVIA.
Vendée Globe Leaders – Day 16 – Mon 23 Nov – Updated at 21:00 hrs UK
1st FRA Charlie Dalin – APIVIA – 19,331 nm to finish
2nd FRA Thomas Ruyant – LinkedOut – 23 nm
3rd FRA Jean Le Cam – Yes we Cam! – 273 nm
4th FRA Kevin Escoffier – PRB – 358 nm
5th GBR Alex Thomson – HUGO BOSS – 388 nm – damaged, sailing at 8.16 knots
6th FRA Boris Herrmann – SEAEXPLORER – 390 nm
7th FRA Yannick Bestaven – Maître CoQ IV – 393 nm
8th FRA Louis Burton – BUREAU VALLEE 2 – 438 nm
9th FRA Sebastien Simon – ARKEA PAPREC – 451 nm
10th GBR Sam Davies – INITIATIVES-COEUR – 511 nm
11th FRA Benjamin Dutreux – OMIA – Water Family – 642 nm
Other GBR:
20th GBR Pip Hare – Medallia – 1866 nm
30th GBR Miranda Merron – Campagne de France – 2235 nm
Retired: Nicolas Troussel
Full results available here . . .
Related Post:
Thomson starts work on Hugo Boss repair – You have to be able to deal with this stuff