29-year old Golden Globe Race skipper Susie Goodall, the sole woman and youngest competitor in this race, arrived at the Hobart pit-stop in 4th place.
Goodall made good use of her time in Hobart to repair her wind vane self-steering and dive to clear barnacles clinging to the bottom of her Rustler 36 yacht DHL Starlight.
Looking fit and relaxed, she remained at anchor for 12 hours, using the opportunity to try and catch up on sleep before starting maintenance work on her boat at first light.
Her Monitor wind vane self-steering were fixed after unbolting the system from the back of the boat to re-align the cogs so that it would self-steer the boat down wind again.
It was the Southern Ocean storm experienced two weeks ago that remains most vivid for her.
"That was brutal – It took me a week to recover! The seas were coming from four directions and I kept being knocked down. I was really struggling with the wind vane, which had been bent and would no longer steer downwind."
"I had to hand steer to keep the boat stern-to the waves, but even so, some waves would come and hit us side-on. Even after the big blow, I still got knocked down a couple more times by the confused swells."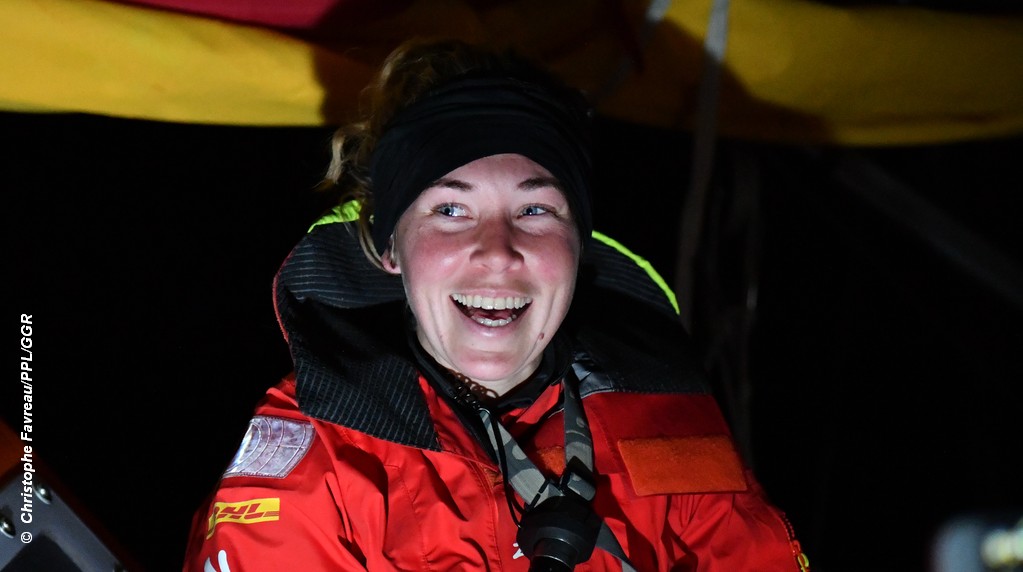 Susie Goodall arrives at Hobart stop over
Deprived of modern-day digital communications throughout this retro race, Susie did at least get the opportunity to chat live to her family back in the UK, thanks to one of her supporters holding up their iPad to provide a Facetime link home.
Susie set sail again at 02:00 UTC to cross the Tasman and head out into the South Pacific bound for Cape Horn, knowing that another Southern Ocean storm is expected in two days.
Susie Goodall is the last remaining British entry in the Golden Globe Race and has 13,014 nm still to sail. She is in fourth place, 3,341 behind the leader Jean-Luc Van Den Heede, also sailing a Rustler 36 yacht.
Susie is an offshore and ocean sailing instructor who was introduced to the sport at the age of 3 and raced Laser dinghies before moving into teaching. In recent times, she has been skippering a 60ft sail training/expedition yacht in Scandinavia.
She has won sponsorship from worldwide courier DHL and bought the Rustler 36 Ariadne, in which she completed a double Atlantic solo crossing in 2017 prior to returning to builder Rustler Yachts in Falmouth for a complete refit in preparation for the GGR.
Follow Sailweb on Facebook – Click here
Follow Sailweb on Twitter – Click here