The Star Sailors League Finals took place in Nassau, Bahamas, with Robert Scheidt and Henry Boening waiting to see who got through the Quarter/Semi finals to challenge them.
While Scheidt and Boening, having been seeded through to the final four, waited to see who would join them, the seven other qualifiers raced a quarter final.
This removed four teams with three joining Mark Mendelblatt and Brian Fatih in the semi-final race.
From there Jorge Zarif and Pedro Trouche, Diego Negri and Frithjof Kleen, and Eivind Melleby and Joshua Revkin took part in the four boat final with Scheidt and Boening.
The result was a convincing win for Zarif and Trouche and US$ 40,000 of the total US$ 200,000 prize pot.
Star Sailors League – Final – 4 boats raced the final
1st BRA Jorge Zarif and Pedro Trouche
2nd BRA Robert Scheidt and Henry Boening
3rd ITA Diego Negri and Frithjof Kleen
4th NOR Eivind Melleby and Joshua Revkin
USA Mark Mendelblatt and Brian Fatih – Out In Semi-final
POL Mateusz Kusznierewicz and Dominik Zycki – Out In Semi-final
FRA Xavier Rohart and Pierre-Alexis Ponsot – Out In Semi-final
SWE Freddy Lööf and Edoardo Natucci – Out In Quarter final
USA Paul Cayard and Arthur Lopes – Out In Quarter final
BRA Lars Grael and Samuel Gonçalves – Out In Quarter final
HUN Zsombor Berecz and Michael Maier – Out In Quarter final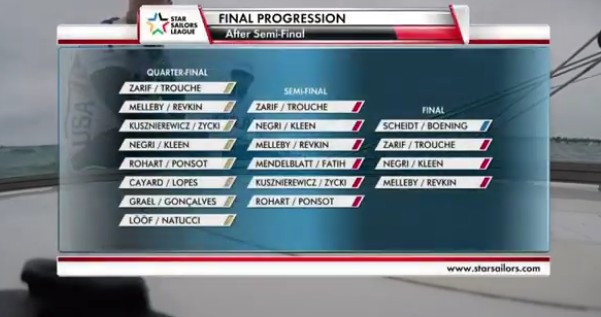 Saturday Leaderboard